Allah Rakha Rahman (born on January 6, 1966 as A. S. Dileep Kumar in Chennai, Tamil Nadu, India) is a composer, best known for composing film scores and soundtracks.

Film scoring and soundtracks
In 1991, Rahman began his own studio, attached to his house, called the Panchathan Record Inn. He initially composed music for use in advertisements, the title music of Indian Television channels and music in documentaries, among other projects. Rahman was, at first, hesitant about composing music for the Indian film industry primarily because most film makers at the time used songs as fillers(yes). In 1992, he was approached by film director Mani Ratnam, who offered Rahman the job as composer for his upcoming Tamil language film Roja, at a price of Rs. 25,000. Rahman accepted, and the movie's super hit debut made him a household
name
in Tamil Nadu virtually overnight and led Rahman to receive the Rajat Kamal award for best music director at the Indian National Film Awards, the first time ever by a debutant. Rahman has since then gone on to win the award 3 more
times
(for Minsaara Kanavu (Electric Dreams, Tamil) in 1997, Lagaan (Tax, Hindi) in 2002 and Kannathil Muthamittal (A Peck on the Cheek, Tamil) in 2003), the most ever by any composer.

When Rahman arrived on the Indian music scene with his first film Roja, he brought about a transformation of film music. Roja was a massive hit, in its original and dubbed versions, and Rahman followed it up with a number of other extremely popular films, including Bombay, Kadhalan, Indira, Minsaara Kanavu, Muthu and Love Birds. His soundtracks gained him recognition and notice in the Tamil film industry and across the country for his versatality in classical, folk, jazz, reggae, soft rock and other styles. Rangeela, directed by Ram Gopal Varma, marked Rahman's debut in Hindi films. Many popular albums for films including Dil Se and Taal followed. The huge sales of these albums prompted movie producers to take film music more seriously. Rahman's playback singing in several of his albums was also widely admired.
Rahman's work is also unique in the fact that his collaborations with some film directors have always resulted in hugely successful albums. In particular, he has worked with Mani Ratnam on ten films until 2006, all of which have been musical superhits. Also notable is his collaboration with the director S. Shankar - in Gentleman, Kadhalan, Indian, Jeans, Mudhalvan, Nayak, Boys and Sivaji.

The following article was written in TIME magazine about Rahman's achievements. His first movie album Roja was listed in TIME magazine's "Top 10 Movie Soundtracks of All Time". In addition to influencing western audiences, Rahman also impressed eastern audiences with his music so much that he was tapped by Chinese director He Ping to compose the score and soundtrack for the Chinese film Warriors of Heaven and Earth in 2003.The music of this film was very much appreciated in Asia.
His latest work includes Bose - The Forgotten Hero, Swades, Mangal Pandey - The Rising, Water (2005 film), Rang De Basanti, Sillunu Oru Kaadhal and Guru. He is currently working on Shankar's next venture Sivaji: The Boss, and on one of Shyam Benegal's next ventures, Chamki Chameli, which is set for release in 2007.
Rahman is a recipient of the Padma Shri and is known around the world as the "Mozart from Madras".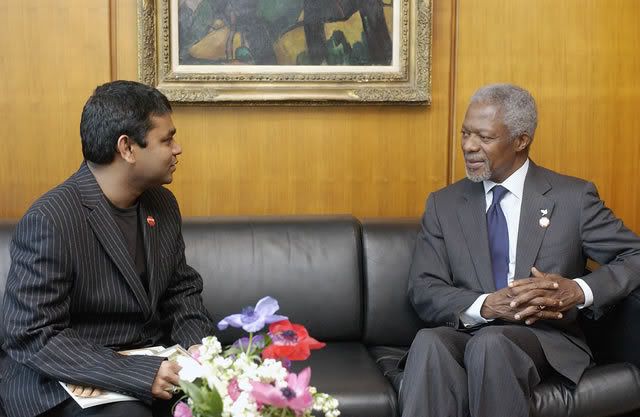 Other works
Andrew Lloyd Webber with A. R. Rahman
Andrew Lloyd Webber with A. R. Rahman
He made an album Vande Mataram (1996) on India's national song, singing the title song on the album. He followed it up with an album called Jana gana mana, a huge conglomeration of performances by all the leading exponents/artists of Indian classical music.
Andrew Lloyd Webber, a well known composer of musicals, was impressed with Rahman's unique style and therefore hired him to compose his maiden stage production Bombay Dreams (2002). This play was well received in England. Furthermore, Rahman, along with the Finnish folk music band Värttinä, composed the music for The Lord of the Rings theatre production, which first opened in Toronto on March 23, 2006, a new production of which begins previewing in London at The Theatre Royal, Drury Lane from May 9, 2007.
On May 23rd 2006, a two-disc album soundtrack, titled Introducing A. R. Rahman, was released by Times Square Records,
featuring
25 songs he composed from Tamil film soundtracks spanning 1993-2001. The compilation soundtrack was well received. Rahman has performed in concerts and tours worldwide. He performed at the Hollywood Bowl amphitheatre in July of 2006, with Indian singers Sukhwinder Singh, Hariharan and Sadhana Sargam, as well as American performing groups Raagapella and Global Rhythms, to a sell out crowd.
Music style
Rahman's interest in the works of Classical and Romantic period composers, Carnatic composers, early film composers and predecessors K. V. Mahadevan and Vishwanathan-Ramamoorthy of the Tamil film industry and others continued through his late teens. He further explored and trained in Carnatic music, Western classical, Hindustani music and the Qawalli style of Nusrat Fateh Ali Khan, in addition to numerous other styles. His interest and outlook in music is said to stem from his love to experiment.As a result, his scores have alternated from songs and themes composed covering a variety of genres, with unconventionally-grouped instruments, and different vocal styles being used and combined together in some of his film soundtracks, to more traditional orchestral themes with leitmotif techniques composed in others. Rahman's works often feature a mix of minimalist songs and evocative, thematic pieces, building on his differing chord progressions and rhythms. He has written scores and songs with new and varied melodic and percussive sounds from instruments of different music systems. This unique blend he pioneered would come to be known as his avant-garde sound.
Films:
* The films Nayak: The Real Hero (2001, Hindi) and Saathiya (2002, Hindi) were remakes of the films Mudhalvan (1999, Tamil) and Alai Payuthey (2000, Tamil), respectively. The soundtracks were reused with changes and additional songs.
* A. R. Rahman has also composed the score for the film Warriors of Heaven and Earth/Tian di ying xiong (2003, Mandarin)
* He has contributed one song to Fiza (1999, Hindi).
* The soundtracks of the films Roja (1992) and Gentleman (1993), were also released as instrumental versions.
The following films had soundtracks reused from previous albums:
* Vishwa Vidhaata (1997, Hindi) from Pudhiya Mugam (1993, Tamil)
* Love You Hamesha (2001, Hindi) from May Madham (1994, Tamil)
* Lakeer (2004, Hindi) from Rhythm (2000, Tamil - 3 songs), with 3 new songs added
* Jodi (1999, Tamil) and Sajni (2007, Kannada) from Doli Saja Ke Rakhna (1999, Hindi), with 3 new songs added
* Star (2001, Tamil) from Thakshak (1999, Hindi - 3 songs) and 1947/Earth (1998, Hindi - 1 song), with 1 new song added
* Thakshak (1999, Hindi) from En Swaasa Kaatre (1999, Tamil) 1 song (Jumbalaka), with changes in vocals and instrumentation
* Pukar (1999, Hindi) from En Swaasa Kaatre (1999, Tamil) 1 song ('Kay Sera Sera' from 'Nayagara'), with changes in vocals and instrumentation
* Song "Dekho Na" from movie Swades (2004, Hindi) reused from the song "Baba Kichchu Tha" from movie Baba (2002, Tamil) with different vocals and instrumentation
The soundtrack of Nicolas Cage's Lord of War (2005), features the instrumental piece "Bombay Theme" from the Tamil film Bombay.
The soundtrack of Spike Lee's Inside Man (2006), features the song Chaiyya Chaiyya from the Hindi film Dil Se.
Non-film
* Deen Isai Maalai (1989) as AS Dilip Kumar
* Andhi Maalai (1990)
* Set Me Free (1991)
* Vande Mataram (1997)
* Jana Gana Mana (2000) and (2006) [1]
* Bombay Dreams (2002) (Musical)
* Ignited Minds (2003) (Unreleased but performed in live concert)
* Raga's Dance (2004) (for Vanessa Mae's album called Choreography)
* Banyan Theme (2006) (Theme song for stage musical Netru, Indru, Naalai in aid of The Banyan, unreleased)
* The Lord of the Rings theatre production (2006) (Stage Production)
* WorldSpace Signature Tune (2006) [2]
* Airtel Tune (2006)
* Pray for me, Brother (2007) (UN Theme song for poverty alleviation mission)
Download Link:
Code:
http://rapidshare.com/users/6Z8F9Z